Bubble envelopes
At Verpakgigant we can supply you with bubble envelopes in various shapes and sizes. Each type of bubble envelope guarantees the same level of protection. However, we recommend shipping more delicate and smaller sized items using somewhat smaller bubble envelopes. Because these cushioned envelopes consist of small pockets of air, your items are better protected than by using a paper or cardboard envelope. This ensures that your shipment will reach its destination safely. It would of course be unfortunate to see the fragile items you sent reach the recipient in poor condition. Especially since this could easily be prevented by using our bubble envelope. For that reason, you can find a wide range of high quality bubble envelopes in our webshop. From big to small and everything in between. If you have any questions on which bubble envelope is most suitable for your product, please feel free to contact us. We would love to help you out!
The origins of the bubble envelope
Before the invention of the bubble envelope, first came the discovery of bubble wrap. Which is the transparent and flexible plastic packaging material used to wrap fragile objects. The foil contains small pockets, which are filled with air and form cushions to protect delicate items. The term bubble wrap is trademarked by the Sealed Air Corporation and is only allowed to be used for products of that specific brand. However, the English term is commonly used in everyday life when referring to the same sort of material. Bubble wrap was actually invented on accident by a pair of engineers named Marc Chavannes and Alfred Fielding. Back then, they were actually trying to develop wallpaper with a paper backing that was easy to clean. Over time, bubble wrap became widely used for packing fragile items for postal services. In order to do this, special envelopes were used that were covered on the inside with bubble wrap. These days you are able to order such bubble envelopes with little effort at Verpakgigant.
Using bubble envelopes for shipping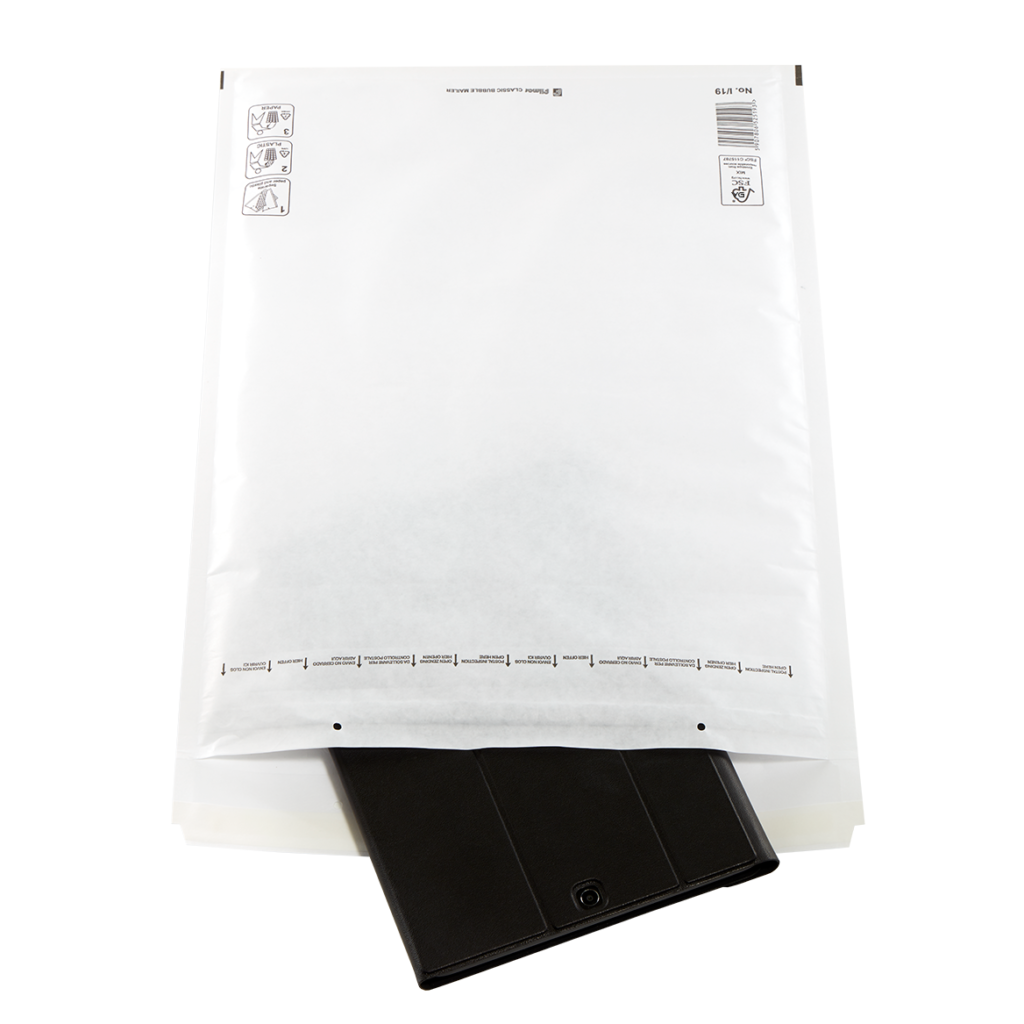 Our bubble envelopes are quite light but still offer exceptional protection due to the small pockets of air on the inside. Thanks to their feathery weight, they are perfect to use as a low-cost but secure way to ship products. The trifix fastener featured on all our air envelopes ensures secure sealing of the envelopes. It prevents the envelopes from being opened without damaging the envelope. Because of the strip, our bubble envelopes can be sealed both easily and quickly. Which means your fragile items are shipped safely. So there is no need for you to worry about about your items sustaining damage. Particularly books, CDs and small statuettes can be shipped using a bubble envelope. After all, these items are fragile and susceptible to damage. For example, a book's cover or the ends of the cover are easily spoiled. Naturally, that would be a shame, as it would no longer be as good as new. Besides that a CD is also extremely fragile. The case in which it is usually kept is also easily damaged. Bubble envelopes are an excellent solution in these cases.
No shipping costs and a quick delivery on our bubble envelopes
All our air cushion envelopes are dispatched with PostNL. With the help of PostNL, all orders placed before 15:00 are delivered the following day. Provided your ordered product is in stock. After dispatch you will receive a track and trace code which allows you to keep track of delivery. This way you are always informed about when to expect your bubble envelopes at the selected delivery address. In addition, no shipping costs are charged on orders that are being shipped within Belgium and the Netherlands. This is however entirely dependent on the order quantity.
Many more products are found at Verpakgigant
Bubble envelopes do not always provide the best packaging for every single product. Is your product larger in size or will it not fit through a standard mailbox? And therefore you cannot use a bubble envelope? Then please have a look at our range of delivery packaging. Shipping a bulkier parcel? Have a look at our cardboard envelopes. Would you like to know more about air cushion envelopes or possibly other matters involving packaging? Simply get in touch! Our customers support team will be happy to help you with any queries you may have.