Bubble wrap for packaging
Bubble wrap is a transparent, elastic material that is ideal for use as packing material when shipping (fragile) items. The material is also known as bubble plastic. Using bubblewrap makes it possible to safely pack any fragile item for transport. The reason for this is that this versatile material consists of many bubbles of air, which together form a field of small cushions. Unlike our competitors, who usually only offer small rolls of bubble wrap, we offer rolls of more than 50 square meters. Obviously, this is extremely handy whenever you have to move house. For that reason you should contact us today and buy your bubble wrap at Verpakgigant.
How is a large bubble wrap roll made?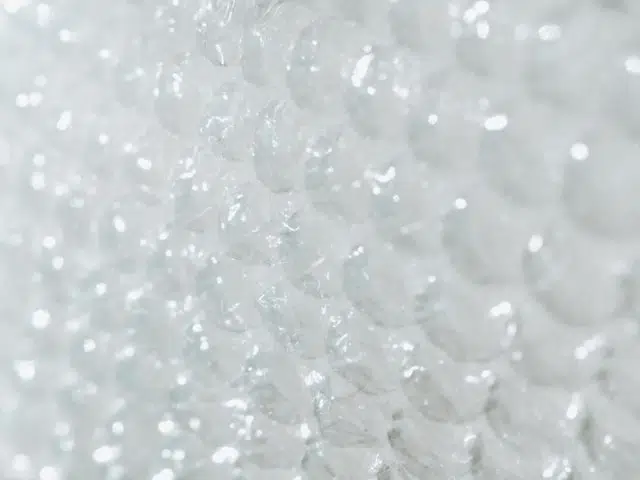 The production of a bubble wrap roll starts with the fabrication of small resin beads, which are similar to gravel pellets. The resin pellets are then poured into some kind of jug, which is called an extruder. Here the resin is re-heated which results in a mixture of the resin. At the base of the extruder there is a trench where the resin mixture flows out in two separate layers. The reason for this is that two layers of resin are needed to produce the finished bubblewrap rolls.
The two separated resin layers then flow through the so-called drum, to which the top layer of resin sticks and rotates around the surface. To create the air bubbles in the large bubble wrap roll, holes of the same diameter are drilled in the drum. In our case, the nubs on our rolls of bubblewrap are all ten millimetres in diameter. Air is sucked through these holes, causing the resin to flow into the holes and thus forming the pockets of air. Then the remaining layer of resin flows over the first layer. This traps the air in between the two layers causing the bumps to be packed with air. After allowing the two layers to cool down completely, they are removed from the drum. Basically, a large bubble wrap roll is now finished and all that is left to do is to cut and roll the sheets.
Using bubblewrap the right way
Would you like to be assured that your valuable and usually fragile items will survive the entire move unharmed? If so, we undoubtedly recommend to buy our cheap bubble wrap. After all, it is very straightforward to use and your belongings will be provided with maximum protection. We are happy to tell you why:
You ensure maximum protection of the item to be packed by wrapping it in bubblewrap whilst pressing the air bubbles on the interior against the item. Incidentally, this also ensures that the bubble wrap stays in place more firmly.
In addition, you can also apply packing tape regularly during the packing process. By doing so you are ensuring that the bubblewrap does not come off.
Finally, you can attach a packaging label to the packed item. This way you always know which item has been wrapped. This is very handy when unpacking.
You only find the best prices at Verpakgigant
To keep the prices of our bubblewrap rolls as affordable as possible, we exclusively collaborate with PostNL or DPD when shipping an order. As a result we do not have to charge you any shipping costs for orders in Belgium and the Netherlands. Of course, it may occur that you order a large number of bubble wrap rolls at once. In that case, we refer to it as a pallet shipment and are forced to use another delivery company to transport the order. Nevertheless, we want to be as economical as possible for our customers.
That is why we offer a nice quantity discount for orders of more than ten rolls. In such cases it is best to submit a request for a tailor-made quote. All you have to do is provide us with your desired order and details, while we will take care of the rest. You can also rest assured that all orders placed before 15:00 will be shipped the same day. As a result, they will usually be delivered to you on the following day.
You can buy bubble wrap and many more packaging materials at Verpakgigant
At Verpakgigant you will not only find bubblewrap of the highest quality, but in our webshop you can also find many other packing and shipping materials. As a result, you have all your packing and shipping needs available in one place. From shipping bags to moving boxes, we can provide it all. But that's not all, alongside all the packing materials we also offer all sorts of other necessities. For example, tape dispensers, shipping labels, label printers and filling chips. From now on you can skip the DIY stores, because everything you need to protect your shipments, you will find at Verpakgigant. What are you waiting for? Take a look through our website and be inspired by our extensive range.